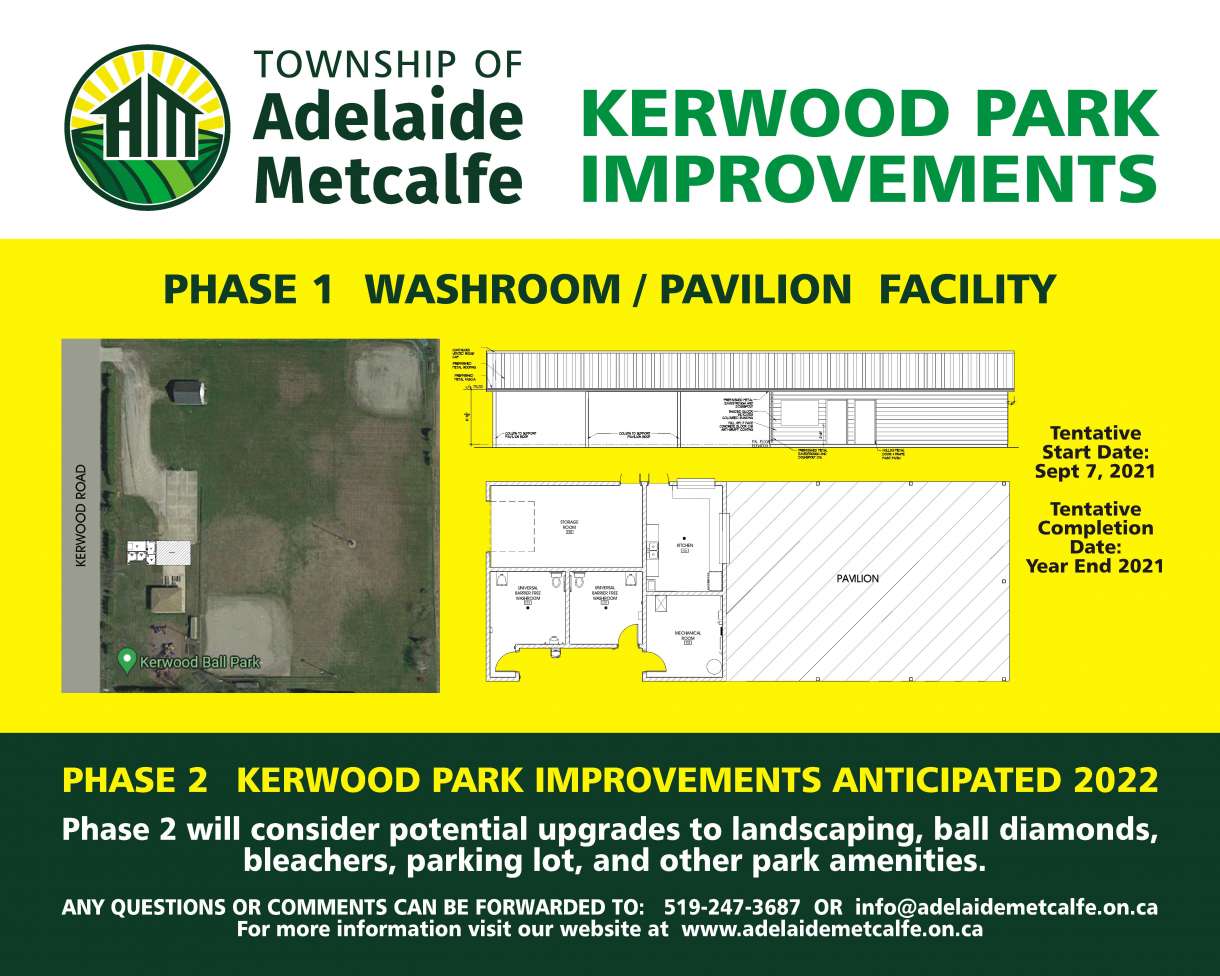 The Township of Adelaide Metcalfe is committed to improving the Kerwood Park through:
New Facility/Community Space
Improved Accessibility
Accessible washrooms
Refresh of existing amenities
Encouraging new park-related activities
The improvements are to be phased-in over two years while ensuring park is still usable for outdoor activities.  Staff will be leveraging and submitting for funding and grant opportunities.
Phase 1 - Facility, including any work related to the pavilions
Phase 2 - Other amenities including improvement to ball diamonds, dugouts, lighting, bleachers, parking lot, aesthetics and landscaping
Phase 1 - Kerwood Park Upgrades (2021)
Phase 2 - Kerwood Park Upgrades (2022)

Phase 2 of the Kerwood Park Improvements will begin in 2022
Staff/Council will be preparing the budget accordingly in the 2022 budget process based on feedback and suggestions
Staff/Council will continue to identify opportunities for outside funding and grants to fund the project
Funding Sources & Grants
Public Engagement

The Township will be looking for ways to engage residents on Phase 2 of the Kerwood Park Upgrades
The 2022 Budget Survey provided opportunity to provide feedback and ideas for the further development of Kerwood Park.  The survey results will be posted soon.
Please contact Morgan Calvert, Chief Administrative Officer (CAO) or Coulter Cahill, Public Works Manager for questions, concerns, suggestions and feedback.
Contact Information

For questions, concerns, suggestions and feedback please contact:

Morgan Calvert
Chief Administrative Officer (CAO)
519-247-3687 exy 8204
@email

Coulter Cahill
Public Works Manager
519-247-3687 ext 8206
@email